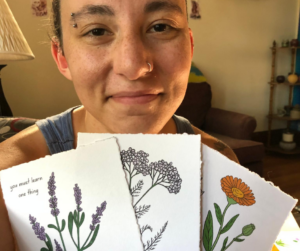 Today, the Sun and Moon are both in Scorpio, within eleven degrees of the nodal axis, signaling a Solar Eclipse. Both collectively and personally eclipses are known to shake things up, illuminate what's been hidden, and initiate new beginnings. This New Moon Eclipse is conjunct Venus, the planet of harmony, beauty and love so… rather than writing about astrology I want to write about someone I love, Della, my adult child (they/them) who is a sun-sign Scorpio and my protégé.
Scorpios are known for deep thinking and intense feelings. Scorpio's a fixed water sign, indicating great staying power, determination, and a profound connection with emotions and the invisible worlds. Scorpios love to solve mysteries, and this makes for a great astrologer, one who will continue to search for ways to help you and answer your questions.
Even though Della has been studying astrology informally for years, the last year and a half we have been meeting every Wednesday for two hours to discuss astrological concepts, go over charts, with a focus on death charts, and share ideas. I find them to be perceptive, deeply insightful, and highly skilled at translating the symbolic language of astrology into understandable concepts that can bring clarity, and increased self- awareness to their clients.
Yes, I've been practicing astrology a long time, but Della brings a fresh perspective to every chart. And yes, I'm their mom, but I can say objectively that Della is a gifted astrologer with a big heart and excellent interpersonal skills. Do yourself, or someone you love a favor, and schedule a session with Della.
Are you between the ages of 27 and 29 and going through your first Saturn Return, or do you know someone this age? Saturn returns bring re-evaluation, changes, a clearer sense of purpose, and often greater life focus. Now is a great time to schedule a Transit reading and prepare for this important life passage.
Do you have four or more retrograde planets in your birth chart? Retrograde planets take time to understand and make parts of your process unique. Contact Della for a Natal chart reading.
Have you ever met someone where you felt that special "click", or a sense of already knowing each other? Nodal contacts between charts show these types of connections. Della can help you understand this better through a Compatibility reading.
Finally, looking for a unique hand -crafted holiday gift? Check out Della's website under "art".
This next month, as we travel together through Scorpio and Eclipse Season, is a perfect time to schedule an astrological session or buy a gift certificate for someone you love. Click here to begin.